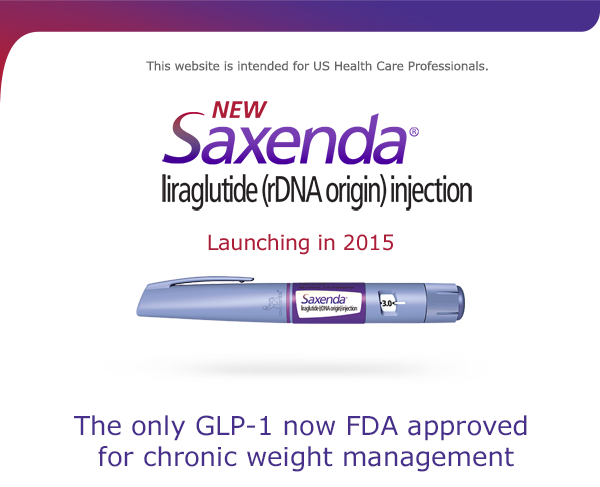 Saxenda, a liraglutide injection derived from a recombination of DNA (rDNA), was approved by the United States Food and Drug Administration as a means to address long-term weight management, and an adjunct to regular physical activity and a low-calorie diet. Saxenda is manufactured and distributed by Novo Nordisk.
The drug is approved for use in adults assessed to have a body mass index (BMI) of 30 or higher, which corresponds to obesity, or in overweight adults (BMI ≥ 27) diagnosed with one or more weight-related conditions, such as high cholesterol levels, type 2 diabetes or hypertension. BMI is a measure of body fat that takes into account each individual's height and weight. According to estimates from the Centers for Disease Control and Prevention, more than one third of all American adults are obese, which threatens these individuals' overall quality of life.
James Smith, the deputy of the FDA's Center for Drug Evaluation and Research, said, the responsible usage of saxenda, when combined with a healthy life-style can act as treatment for those who are obese, or overweight, with co-morbidities. Since saxenda is a glucagon-like peptide-1 (GLP-1) receptor agonist, it should not be used simultaneously with other drugs from the same class such as Victoza – indicated for type 2 diabetes, and contains the same active substance, liraglutide. Saxenda is not recommended as a diabetes treatment, as the safety profile for this indication has not been established.
Results from a clinical trial showed that patients lost an average of 4.5 percent of weight, compared to placebo. The researchers also observed 62 percent of the patients lost at least 5 percent of their body weight in comparison to those under placebo (34 percent of the patients). Another trial, this time enrolling patients with type 2 diabetes, showed that "patients had an average weight loss of 3.7 percent from baseline compared to treatment with placebo at one year. In this trial, 49 percent of patients treated with Saxenda lost at least 5 percent of their body weight compared to 16 percent of patients treated with placebo."
To continue the treatment with saxenda, patients have to be evaluated 16 weeks after initiation of treatment, and they need to have lost a minimum of 4 percent of body weight to justify continuation.
A connection between saxenda and thyroid C-cell tumors was found, and while this link remains unexplained, saxenda should not be used by patients with familial or personal history of medullary thyroid carcinoma (MTC), or in patients with multiple endocrine neoplasia syndrome type 2.
Serious side effects reported include gallbladder disease, pancreatitis, renal impairment and suicidal thoughts. Saxenda can also increase heart rate. However, the most common reported side effects included diarrhea, nausea, vomiting, constipation, decreased appetite and hypoglycemia.
The FDA is requiring post-marketing studies for Saxenda, including dosage evaluation, assessment in rats regarding growth, sexual maturation and the development of the central nervous system, a study to understand its connection with MTC, and if it can increase the risk for breast cancer.